How Can My Home in Town Center be Restored After Flood Damage?
9/17/2021 (Permalink)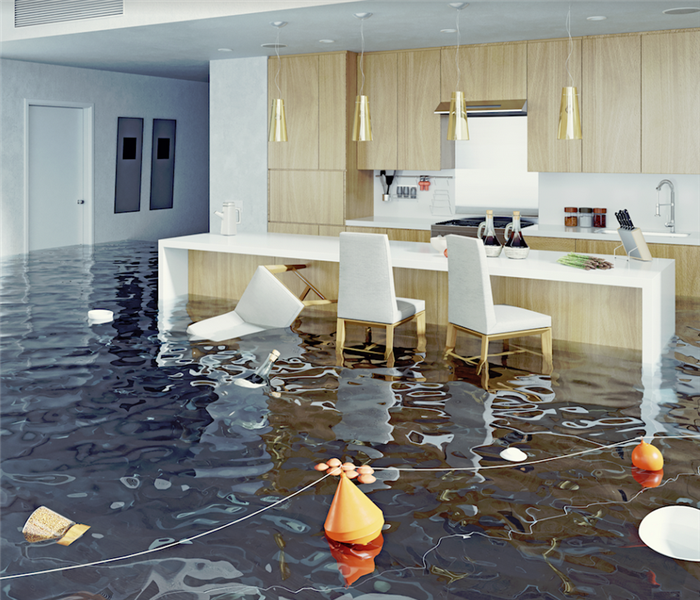 When flooding occurs, quick action is the most effective. Contact SERVPRO to assess and remediate the flood damage in your home.
Expert Restoration Companies Employ a Variety of Advanced Methods to Successfully Repair Flood Damage
Town Center, FL is no stranger to flooding and many area homeowners have experienced it one or more times during their residencies. Located on low, marshy land that is surrounded by water, this town adjacent to Jacksonville tends to experience flooding every year. Excessive rains from hurricanes and various tropical storms routinely inundate the area between June and the end of November. While some residents can avoid the worst of this problem through preventative measures, many others have to deal with catastrophic flood damage. Luckily, for the ones impacted, services like SERVPRO have innovative tools and methods for resolving their issues.

Is There Anything I Can Do to Prevent or Mitigate Potential Flood Damage?
There are various ways you can either prevent or mitigate potential flood damage in Town Center. These measures help prevent floodwaters from entering your home through its foundation, roof, and windows. The following is a short list of such preventative steps you can take to protect your Town Center home:

Seal any cracks in your house's foundation
Fix any roof leaks and ensure that your roof drainage system is in good working order
Cover all openings and windows with sturdy plywood
Strategically place sandbags around your home to divert floodwaters
What Equipment and Methods Can SERVPRO Use to Dry and Restore My House?
When SERVPRO technicians arrive on-site, they first evaluate your home for damage and then extract any standing water. Once they remove any remaining mud and trash, our workers start drying and restoring your house. The general process they follow to do this is:
A drying goal is scientifically established, based on local atmospheric data and moisture levels in unaffected rooms
The most effective ratio of dehumidifiers to air movers is determined and they are used to dry out your home's interior
Injectidry systems, connected to dehumidifiers, are used to dry hard-to-reach areas behind walls and ceilings
Considering everything, you should now understand that there is help available if you need it. Call SERVPRO of Jacksonville South at (904) 762-8066 for assistance.